This article is under construction.
You can help the Princess Jellyfish Wiki by expanding it or providing any additional information on it.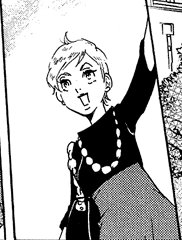 Mika attends college with Kuranosuke and often hung out with him at clubs.
Personality
Edit
Mika is a decent person who makes mistakes but can own up to them and do the right thing afterward. When she insults the Amars outside a club, Kuranosuke declares them to be his friends and stalks off. Mika felt torn up about this, and tracked down Kuranosuke the next day. She apologized and offered free tickets to her drama club's performance as a gesture of good will.
Mika's involvement in drama is more backstage than onstage. She is the sound technician for The 25 Ophelias.
Appearance
Edit
Mika has short, closely cropped blonde hair. She sometimes wears a wig over it. In general she prefers fashionable clothes.
Relationships
Edit
Mika considers Kuranosuke a good enough friend that she seeks to make amends after having upset him.
Mika's plotline is not included in the anime version of Princess Jellyfish, and is the first major plot change between the two versions.
References
Edit
Reference needed!

Help the Princess Jellyfish Wiki by putting references into this article.