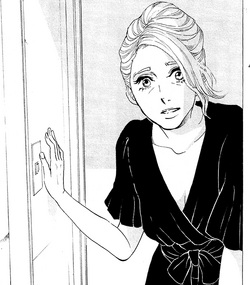 Spoiler warning!
This article contains important plot details.
Lina is Kuranosuke Koibuchi's biological mother. She is a European woman and met his father while working as a singer. She is voiced by Colleen Clinkenbeard in the English dub and Seiko Yoshida in the Japanese original.
Lina once worked as a singer and had an affair with Kuranosuke's father. She raised Kuranosuke for much of his childhood, but sent him to live with his father when he was still quite young. Kuranosuke remembers her carefully maintained closet and love of fashion.
Personality
Edit
Appearance
Edit
Lina is shown as a slender lady with blonde, silky hair. She wears fashionable dresses for her singing gigs and is still comfortably fashionable in her clothing choice while at home.
Relationships
Edit
She has a son, Kuranosuke Koibuchi, with Keiichiro Koibuchi.
At some point during Shuu Koibuchi's youth, she had an extended affair with Keiichiro Koibuchi. It led to her conceiving a child. Their relationship seemed to have ended either during her pregnancy or Kuranosuke's early childhood, as they were already over when she put Kuranosuke into his family's care.
In Italy, she married a furniture designer and lives happily with him.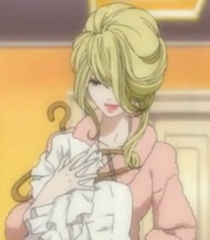 In chapter 63 of the manga Shū visits her in Italy, where she lives with her husband, a furniture designer. Shū assists her in ordering one of the dresses that her son helped design, but Lina asks Shū to keep her identity secret from Kuranosuke.
References
Edit
Reference needed!

Help the Princess Jellyfish Wiki by putting references into this article.