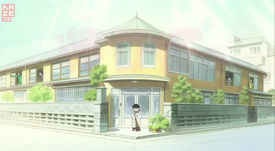 Amamizukan
is an apartment building in Tokyo, where the only tenants are otaku women, and where men are forbidden. All tenants of Amamizukan are the same, being mainly fujoshi and NEETs, refering to themselves as the "
Amars
" (nuns).
Amamizukan's surrounding neighborhood is under threat of redevelopment, as opportunists aim to turn the quaint area into a more cosmopolitan region, with many of the buildings being demolished to make room for hotels and shopping centers.
Although its tenants fear and loathe attractive/fashionable people, Tsukimi Kurashita and the other tenants are helped by Kuranosuke Koibuchi to see the Amamizukan is not destroyed by creating a clothing brand to save up money and buy Amamizukan themselves.
Image Gallery
Edit
Live Action
Edit
References
Edit